Trust ACE Removals for Superior Commercial Removals!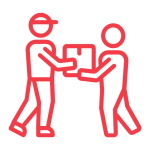 Specialised Equipment Handling
Trained to move heavy machinery and specialised equipment with the right tools, ensuring safety.
Tailored Moving Plans
Customised moving plans to suit each business's unique needs, ensuring efficiency.
Comprehensive Insurance Coverage
Protection for valuable assets with full insurance coverage, offering peace of mind.
Minimal Business Interruption
Efficient scheduling and execution to minimise disruption, allowing business continuity.
Seamless Commercial Move in 4 Simple Steps​
1. Schedule a Preliminary Survey:
Get our free no-obligation quote after an expert survey.
2. Book Your Removals Session:
Confirm your booking upon receiving our quote.
3. Leave the Task to Skilled Movers:
Our professional commercial relocation services team will handle everything.
4. Resume Business at Your New Location:
We'll ensure a smooth transition so you can get back to work immediately.
How to Arrange Your Commercial Move with ACE Removals
Free Quote and Survey
Packing and Loading
Short and Long-Distance Moves
Resume Business as Usual
Free Quote and Survey
Our experienced surveyor will assess your commercial moving needs for free. You'll receive a transparent quote with no hidden costs. Simply contact our commercial relocation company to set a date.
Packing and Loading
Short and Long-Distance Moves
Resume Business as Usual
Book Now & Get $50 Off On Your First Booking
Frequently Asked Questions